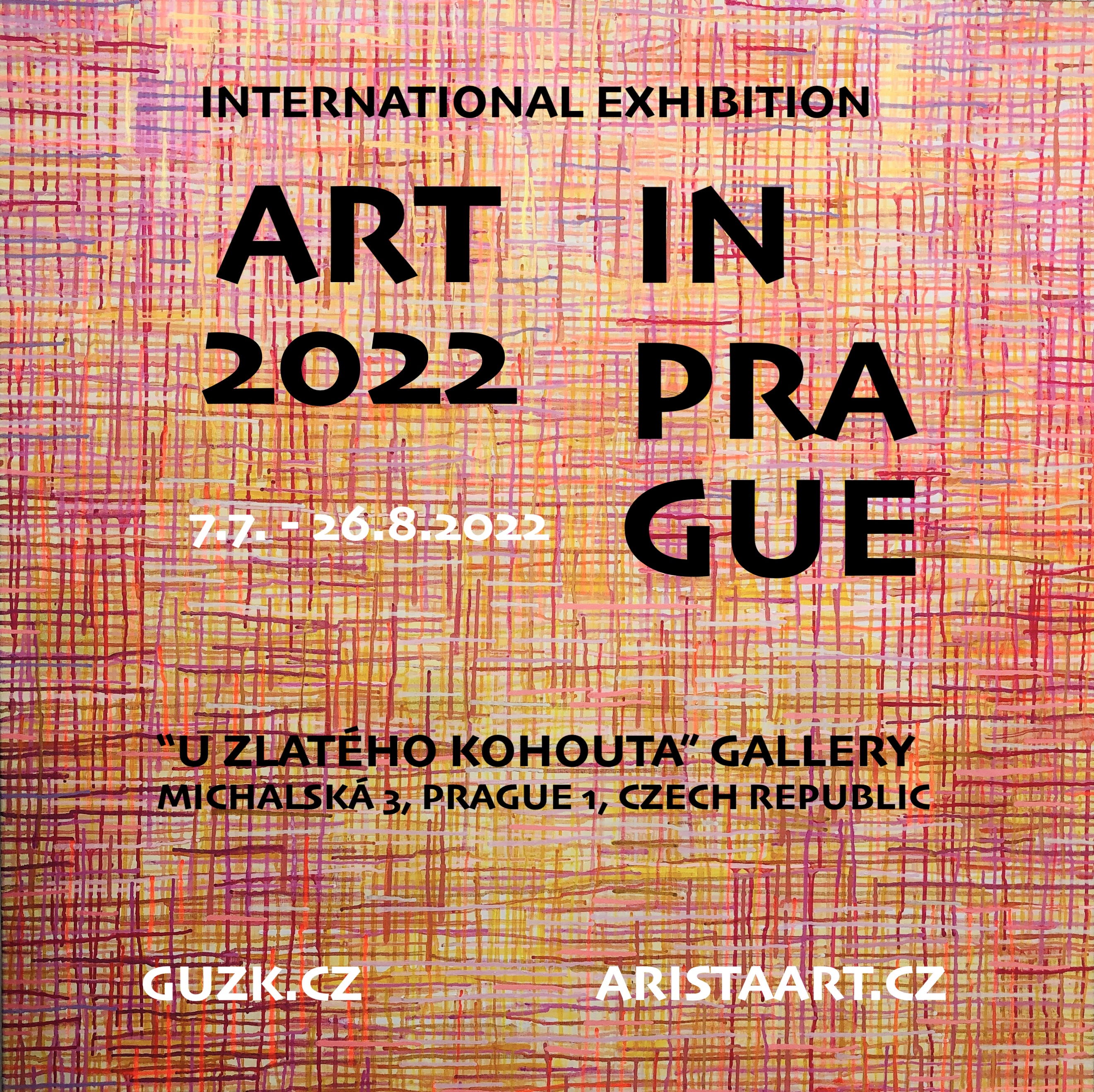 Ochutnávky z letošní instalace
Rumen Sazdov & Zuzana Křováková
socha Thierry Funck & Zuzana Křováková
váza od světoznámého skláře Bořka Šípka
Kalendář akcí během výstavy
ART IN PRAGUE 2021 - 7. července - 23. srpna 2021
Dear friends, dear artists and art fans! I would like to invite you to one of the top artistic events of this summer International Exhibition ART IN PRAGUE 2021 in the "U Zlatého Kohouta" Gallery, located in the historical center of Prague. Visitors will be introduced to almost a hundred artworks from 33 contemporary Czech and foreign authors in term from 7th July to 23rd August 2021. The opening of the exhibition will be on Wednesday, July 7, 2021 from 6 pm in the "U Zlatého Kohouta" Gallery in the heart of Prague. You can look forward to live performances by singer and actress Petra Černocká and Slovak musical actress and singer Nikola Ďuricová.
International Exhibition ART IN PRAGUE 2021 (from 7 July to 23 August
2021) introduce artworks from this  artists:
JIŘÍ ŠORM
ALEX DOWIS
THIERRY FUNCK - Lucembursko
RUMEN SAZDOV - Bulharsko
PETRA ČERNOCKÁ
NIKOLA ĎURICOVÁ - Slovensko
ZUZANA KŘOVÁKOVÁ
MIROSLAV KOTORA - Slovensko
BOŘEK ŠÍPEK
DALIBOR ŠÍPEK
DMYTRO KUVIK - Ukrajina
RADKA VOM
VLADIMÍR VÁCHAL
LENKA KOZLÍKOVÁ
MONIKA GRÜNDLER
MISHA FRYČ
MEJDLO
KATEŘINA BOHUŠÍKOVÁ
ŠÁRKA MARKOVÁ
MONIKA KRIPNEROVÁ
LUCIE PROCHÁZKOVÁ
IRENA PROCHÁZKOVÁ
TEREZA SKLOVSKÁ
JANA TESAŘÍKOVÁ
JANA HAVLÍK
LUCIE FILIPO
KATEŘINA ADÁMKOVÁ
NADĚŽDA KELEMENOVÁ
SILVIE KOŘISTKOVÁ
KRISTÝNA BURGROVÁ
JANA STAŇKOVÁ
DANUŠE PICHLOVÁ
HANA KORDA
.............................................
International exhibition
ART IN PRAGUE 2021
7.7. - 23.8. 2021
"U Zlateho Kohouta" Gallery
Michalská 3, Prague 1 - Old Town
.............................................
During the exhibition, accompanying events will take place in the
gallery, e.g.
ALEX DOWIS SHOWTIME, (July 12, 2021 from 6pm and 9pm), which is a live
performance and
workshop of an artist, who paints not only light and sand and you know
him from popular show Czech Republic Slovakia has talent.
You can also look forward to two COMMENTED TOURS: 15.7. and 12.8. always
from 5 pm.
We look forward, look forward! 🙂
The organizer of the fifth year of the International Exhibition ART IN
PRAGUE 2021 is the art agency ARISTA ART, which is dedicated to the
promotion and support of contemporary art in order to create a meeting
place for artists from around the world, creating a direct confrontation
of works of art, styles and worldviews by individual authors.
--
Zuzana Křováková
Founder of ARISTAART
ARISTA ART
HYPERLINK: http://aristaart.cz/
FACEBOOK: Aristaart
INSTAGRAM: aristaart43
YOUTUBE: Arista Art
Contact:
Zuzana Křováková, director of ARISTA ART